It's been a while since I posted, but I've had stuff on, and very little to post as my camera has been away at Sony.
Anyway, last few weeks have been pretty sick. My birthday was literally, sick, and I had a great time with my mates and stuff! Got a bit of money which will go a long way to paying for this year and some more equipment and hopefully will go towards my plans for 2011.
The weekend before last(13th and 14th) was rad. Me and dad headed up to Taff Buggy for the first of the summer series. I was supposed to be taking my mate Dom, but he stupidly (haha) forgot he had to go to a wedding, so I swapped his entry with my friend George Croton and we headed up. It was awesome weather. The first real dry ride of 2010. The track was amazingly fast and dusty and I had a ball all through practice. There was a great turnout, with Brendan Fairclough and Rich Thomas turning up for the practice day and Josh Bryceland riding all weekend. I strapped my Go-Pro (for which I bodged a chest mount up for a fiver) to Expert Will Soffe and had him do a run with it. The first time I tried the chest mount it came out really bad, looking pretty much at the top tube, but with a few adjustments I had the angle perfect. Anyway, here's the end product of Will Soffe bashing out a run of Taff Buggy...
I had a real bad race run and I got really tired like 5 corners in then blew my feet off in the rock garden and did a 2.18. Bryceland won the Elites and got Fastest Time of the Day with a 1.48 or something quick. Highlight of the weekend has to be Seb Frost embarrassing himself in front of some kids mum! Here's a pic I took after racing of Miami Bryce railing it round the top turns.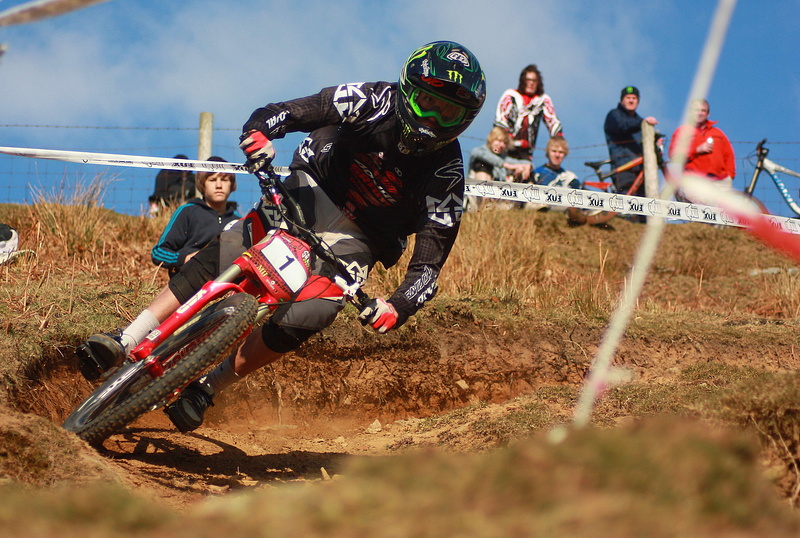 Anyway, my camera also came back that weekend, while I was away. Sony have completey replace the lens and the focus and zoom rings, whilst also giving me a new warranty. So pretty happy with that.
I also ordered some stuff to pretty much complete my kit for 2010. I neeeded a bag for all my stuff and everything I could find was pretty small, or there was other stuff wrong with it. Anyway, I eventually found the Ogio TY 2. It's made for 2 prosumer video cameras but you can also use it like I do with the one video camera and a photo camera with lenses. It's pretty expensive with an RRP of £139.99 but I found it on CRC at £109. So I ordered that and it came on Monday. First impressions were that is was absoloutely massive. Big enough to fit a small child in. It's pretty heavy and with everything inside it weighs a bloody tonne.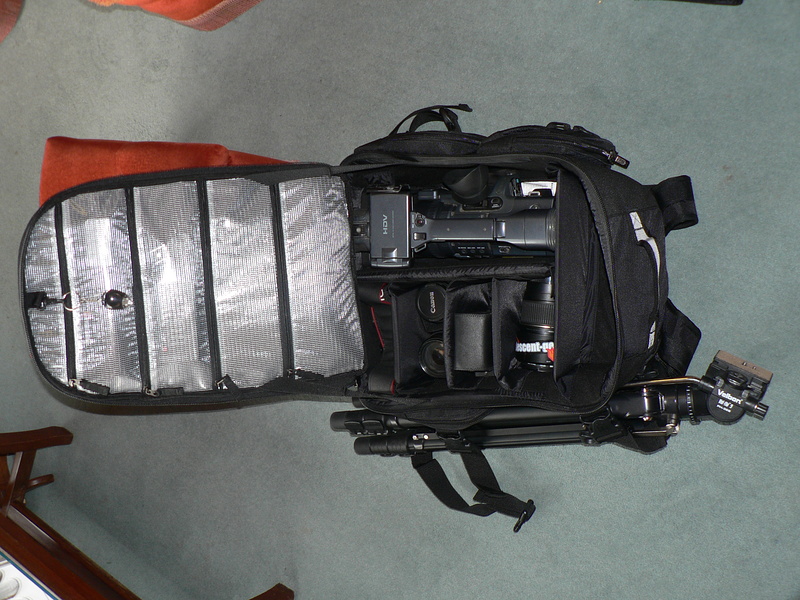 I also ordered myself some triggers for my flash. I've wanted a remote flash setup since I started shooting but never got round to finding one that might actually work. I haven't shot out in the woods properly with it yet, just fired off a few shots in the kitchen and it works, so that's all good!
I also ordered myself a Canon 50mm f/1.8 prime from Amazon. It came on Tuesday, the day I left to come over to Tenerife, so I've only been able to take tourist-y shots with it so far, but it's rad from what I can see!
So here's my kit (without the 50mm)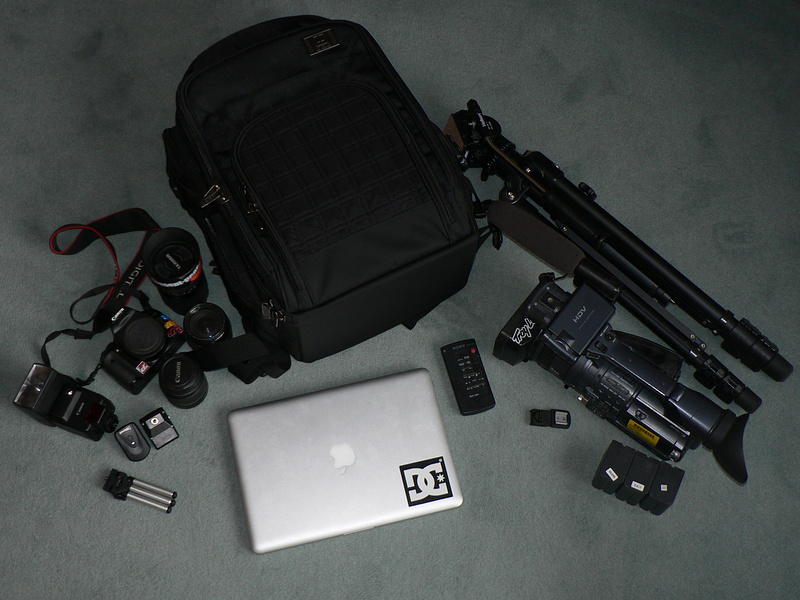 So I'm over in Tenerife at the moment sat on the balcony, bored shitless. Going home next thursday and can't wait! Going to go out and shoot a bit of video and take some pics over the Easter holidays. Maybe do a bit of film with a few quick riders.
Oh, I'm also riding at Moelfre for the Clipped-In race when I get back so if you're there say Hi. (thats if anyone actually reads this?)